Keep your library at your fingertips by downloading the Indian Trails Public Library app for your mobile device.
Compatible with both Apple and Android devices. Download from the Apple Store or Google Play Store by searching Indian Trails Public Library. 
When you launch the app for the first time, you will be asked to add a library card. Enter all 14 digits of your library card and the PIN. 
---
APP HIGHLIGHTS
Select Add A Library Card in the top left corner to add family members' library cards for easy hold pick up.
Self Checkout – Check out books by scanning the barcode. 
Digital Library Card – Left your card at home? Scan the barcode at a self-checkout station or when checking out with staff.
Items Out – Displays your checked out items.  
Holds – Displays items on hold, including the status of being located, shipped, in transit or ready for pick up.
Fees – Displays fees owed to the library, such as damaged or lost material. ITPLD is fine-free for overdue material. 
Reading History –  Displays items that have been checked out previously. Visit itpld.org and login with your library card number and PIN to turn on your reading history for the first time. 
Event Notifications – Set notifications for events.
Wireless Printing – Send print jobs to ITPLD printers from home and pick up copies at the library.
---
Welcome SCREEN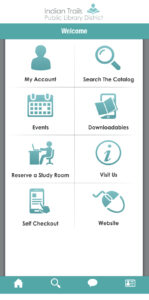 My Account – Access your record, checked-out items,  items on hold, reading history and more. 
Search the Catalog – Search by keyword and location
Events – View all upcoming events
Downloadables – Access ITPLD's e-books, audiobooks, movies and TV shows 
Reserve a Study Room – Reservations can be made up to 24 hours in advance.
Visit Us – Hours & locations, wireless and remote printing and more
Self Checkout – Check out items with your phone by positioning the barcode (starts with 31125) in the camera. Select receipt to receive a text or emailed receipt.
Website – ITPLD's homepage
---
library information SCREEN
Hours & Location – Current hours and closings
Library Cards – Everything you need to know about library cards
Wireless Printing – How to send print jobs to the library for pick up.
Indian Trails Branch –  Information about the Branch in Prospect Heights
Borrowing – Renewing and returning items, holds and more
Social Media – Connect with us on social media
---
DASHBOARD
Common navigation elements. 
Home – Back to the main page
Magnifying Glass – Search the catalog
Chat Bubble – Contact ITPLD by email or phone
Library Card –Digital library card
Questions?
Call: 847.459.4100, ext. 3 or to set up a free one-on-one session.
Email: adult@itpld.org
Visit: Adult Services Desk for a quick in-person tutorial