Save the Date: Saturday, July 11, 2020
We'll bring the dinner; you bring the conversation!
For the past two years, there has been a growing movement across the country of people coming together over a meal to engage in civic conversation about their community.
And while over 90% of Americans polled believe incivility is prominent in our culture, many are hopeful we can create more civil conversations about the things that matter to our community. (Civility in America 2018, Weber-Shandwick)
We think so too.
In 2019 the Indian Trails Library embarked on a bold initiative:
To champion civic conversations through The Longest Table, a public, non-partisan event where residents from all cultures, religions and ethnicities come together over a shared meal to engage in meaningful conversations.
Ticket Information
Tickets on sale May 1. Check back on this page for information in April.
Ticket prices
Adults – $10
High School – Free
Tickets include dinner, book and t-shirt.
Limited seating:  125 Adult tickets available | 25 High School tickets available
You can help by
Making a donation to help fund The Longest Table.
Telling your friends and neighbors about it.
Attending the civic conversation programs to be held in 2019 and 2020.
Attending The Longest Table event in summer 2020.
History of The Longest Table
Although the location of the first The Longest Table is unknown, these communities have successfully hosted events in the past two years. Other communities have hosted events on a smaller scale of 8-10 people who met to talk about their hopes and concerns and how to build stronger communities.
Howard County, Maryland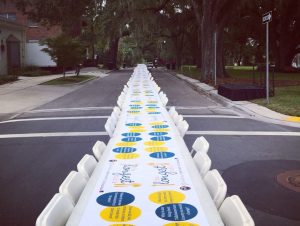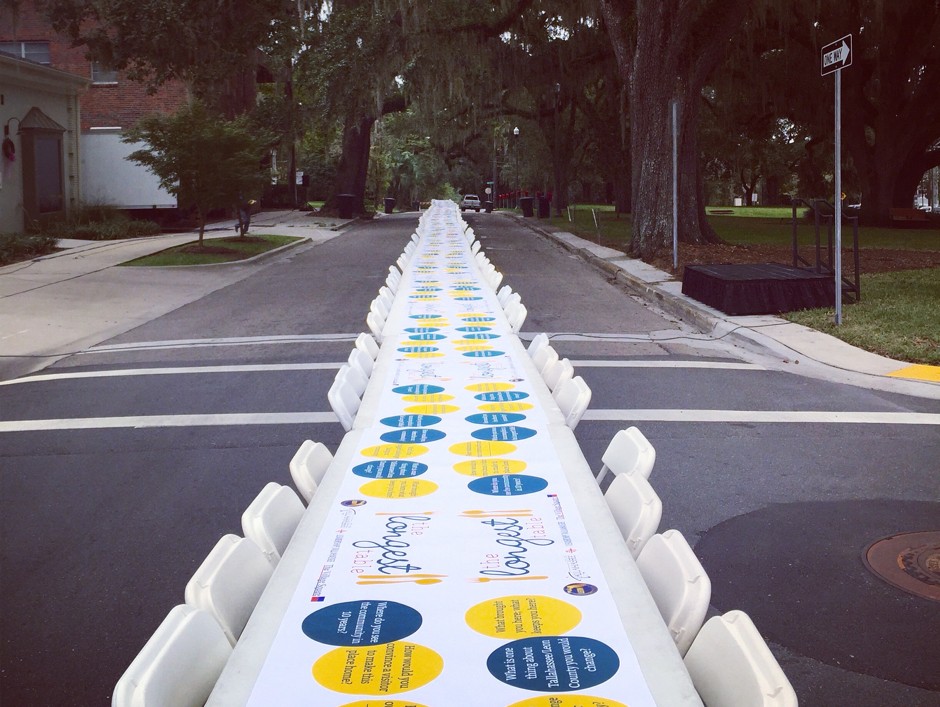 Tallahassee, Florida
Dayton, Ohio
How it began at Indian Trails Library
In May 2017, Kalsoom, a mother of three and member of the library's foundation board, invited a group of moms from diverse cultural, racial and religious backgrounds over to her home to discuss how to create a more civil and accepting climate in their community. She believes children take their cues from their parents on how to interact with those from different backgrounds."We are raising the next generation and if we can understand each other," Kalsoom said, "we are more likely to treat each other with respect."
From Kalsoom's small group, MOMs (Moms Open Minds) was born, and as the group continued to grow, they began looking for a larger space to meet. Kalsoom reached out to the library, which offered space for their quarterly meetings. At the same time, the library's executive director Brian Shepard read about a Longest Table event in Howard County and plans were set in motion for Indian Trails Library to host a Longest Table event.
In September 2018, the first planning meeting was held with staff from several organizations in attendance. A tentative date has been set for August 2019 for the event, but the Foundation for the Indian Trails Library wanted to enhance the experience by raising funds to purchase books and host programming to further engage the community. We hope you will join us.
Longest Table Partners
Indian Trails Public Library
Foundation for the Indian Trails Public Library
Harper College
Korean Culture Center of Chicago
School District 21
Wheeling High School
Wheeling Park District
Village of Wheeling
Longest Table Supporters
Premium Concepts
Rotary Club of Wheeling