We are excited to have two uplifting and delightful projects we are raising funds for this year: the Green Lake Park StoryWalk and a new Reading Garden bench at the library.
Green Lake Park StoryWalk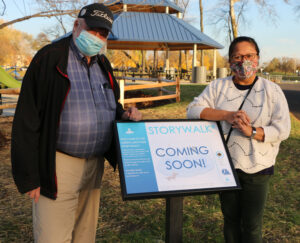 Located at 1101 Green Knolls Dr. in Buffalo Grove, the Green Lake Park StoryWalk is a partnership between the Indian Trails Library and the Buffalo Grove Park District.
When the park district began renovating Green Lake Park, library staff asked them about the possibility of installing a StoryWalk in the park. The park district warmly accepted the invitation and library staff turned to the foundation for assistance in funding this.
A StoryWalk is 18-20 posts and flat sign holders into which a single page of a picture book is inserted. This encourages reading and outdoor exercise as parents and children stroll the park  together while reading a book Library staff will change the stories every 3-4 months. 
The Indian Trails Library Foundation agreed to fund the project, which included the purchase and installation of the posts, plus assist with the cost to purchase and laminate each book that would be installed. 
Donations of any amount to support this project are welcome with donations of $100 or more will be acknowledged on a plaque installed in the library's Youth Services Department.
Reading Garden Bench
In 2017, the library reopened after an extensive renovation, which included moving the Reading Garden to the south side of the building. This new location has proved popular as it overlooks Horizon Park, and offers a quiet place to sit near the library's lush vegetable garden. The current stone benches, while attractive, are not comfortable to sit on for long periods of time. 
The foundation asked the library to move forward on purchasing a new bench that would match the benches in the front of the library for the Reading Garden. These benches are made of sustainable wood and designed to withstand the harsh elements of winter with no maintenance. 
By supporting this project, you will be providing a comfortable, welcoming place for generations to sit for years to come.
Thank you for considering supporting one of these projects.
The Foundation for the Indian Trails Library Board of Directors
Sheila Anderson, Melody Bickhem, Cathy Burns, Stephanie Demb, Rose Johnson, Terry Herzog, Neil Holman, Lakshmi Karpoor, Gene Looft, Mark Luboyeski, Christine Melone, Michael Putz, Richard Rosen, Kalsoom Saleem, Mary Siarkiewicz, Nina Strezewski, Steve Wetle, Judy Zeller